Amoebac Tablet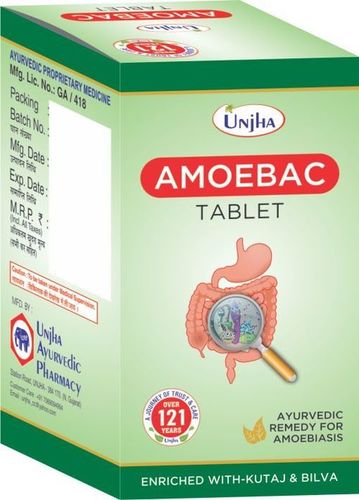 Amoebac Tablet
Product Description
Amoebac Tablet

Amoebac Tablet is a combination of Extracts Derived from more 8 precious and time tested herbs. These herbs work synergistically and make Amoebac Tablet as a good Ayurvedic Anti-Diarrhoeal and Anti-Amoebiasis Medicine.Other Ingredients also contribute their Astringent action.By virtue of these herbs Amobic Tablet Helps to.

Key Benefits:

Reduce motility and secretion of Intestine.
Check Blood coming out with diarrhoea & dysentery.
Reduce chances of Dysentery & Diahrroea specially Protozoal origin.
Prevents colonization of Bacteria in the Intestine.
Reduce Swelling of the Intestine and colon and keeps them healthy.
Increase absorption of minerals and nutrients from small Intestine.
To get rid of the toxic waste generated by the parasites within the intestine.
In addition, its antispasmodic property helps ease cramps and pain.
Indications-
Intestinal Amoebiasis
Acute and Chronic Dysentery
Acute and Chronic Diarrhoea
Colitis
Malabsorption Syndrome
Sprue
Provides long lasting relief
Dosage - 1 to 2 tabs thrice a day after meal with Kutajarishta or Bael Swaras or as directed by the physician.
Packing : 25,100,500 Tabs.
COMPOSITION: -Each Uncoated TabletContains: -
| | | |
| --- | --- | --- |
| Ingredients | Botanical Name | Qty |
| Kutaj ext. | Holarrhena antidysenterica | 100 mg. |
| Bilva ext. | Aegle marmelos | 50 mg. |
| Dadim twak ext. | Punica granatum | 50 mg. |
| Daruharidra ext. | Berberis aristata | 50 mg. |
| Marodfali ext. | Helicteres isora | 50 mg. |
| Indrayav ext. | Holarrhena antidysenterica | 50 mg. |
| Mochras ext. | Bombax malabarica | 50 mg. |
| Shunthi | Zingiber officinale | 30 mg. |
| Shuddh sphatika | Purified alum | 25 mg. |
| Panchamrit parpati | | 25 mg. |
| Jatiphal | Myristica fragrans | 20 mg. |
| Excipients | | Q.S. |