Cruel Capsule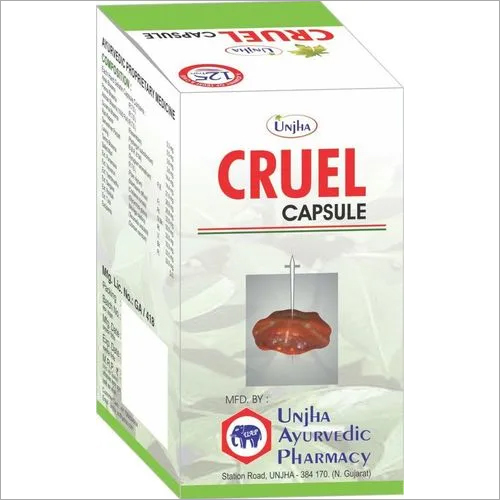 Cruel Capsule
Product Description
Cruel Capsule
Cruel Capsule is the excellent combination of antineoplastic,tissue promoting and anti inflammatory precious Herbo - Minerals.Cruel Capsule is very useful in different type of benign,malignant and degenerative conditions.
Key benefits
It reduces the abnormal tissue growth, helps in healing chronic wounds, promotes immunity, restores energy, checks malignant conditions, checks degeneration and promotes regeneration. It should be taken with with water. It is combination of anti neoplastic, tissue promoting and anti inflammatory precious herbal minerals.
Indications
(As an adjuvant in)
Primary carcinoma
Tuberculosis
Secondary metastasis
Degenerative conditions
Immuno compromising conditions
Dosage: 1 capsule two times a day with milk or as directed by the physician.
Packing: 15, 30, 100 , 500 Caps.

COMPOSITION: Each Hard Gelatin Capsule Contains

| | | |
| --- | --- | --- |
| Ingredients | Botanical Name | Qty |
| Hirak Bhasma | | 0.3 mg. |
| Panna Bhasma | | 0.5 mg. |
| Abhrak Bhasma (1000 Puti) | | 3.6 mg. |
| Suvarna Bhasma | | 3.6 mg. |
| Ras Kapoor | Hydrargyri subchloridum | 14.4 mg. |
| Sarveshwar Parpati | | 14.4 mg. |
| Laving | Syzygium aromaticum | 21.6 mg. |
| Tamra Bhasma | | 28.8 mg. |
| Safed Mari | Piper nigrum | 28.8 mg. |
| Punarnava Ext. | Boerhaavia diffusa | 33.0 mg. |
| Vayvarun Ext. | Crataeva nurvala | 33.0 mg. |
| Yashtimadhu Ext. | Glycyrrhiza glabra | 33.0 mg. |
| Saragava Ext. | Moringa oleifera | 33.0 mg. |
| Rohitak Ext. | Tecomella undulata | 33.0 mg. |
| Tulsi Ext. | Ocimum sanctum | 33.0 mg. |
| Excipients | | Q.S. |