Livbond Syrup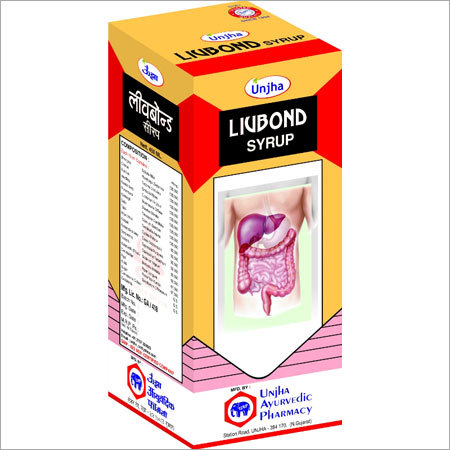 Livbond Syrup
Product Description
Livbond Syrup provided by our company, is a type of ayurvedic medicine which is produced by using multiple of herbs. This syrup is free from any added chemicals and preservatives. This syrup also has no side effects. This syrup is mainly used for solving the issues related to your liver parts. Livbond Syrup helps in restoring the normal hepatic functions and improving the appetite and digestion too. This syrup is great medicine to protect your liver form the various infections and regulates the necessary functioning in a proper way. This syrup is clinically tested under various important parameters to ensure its excellent performance. Livbond Syrup is made using herbs which have multiple of antioxidants, and possess antifungal, antibacterial and antiseptic properties too. This syrup also helps in improving the metabolism of the body. This syrup is ideal for promoting the biliary flow, normalizing the functions of liver, and checking the impaired functions of liver. Livbond Syrup is very cost effective and can be easily purchased at cheaper prices too. This syrup is safe to consume.
Livbond Syrup is the excellent combination of hepato-spleno stimulant , hepatoprotective and digestive herbs. Livbond Syrup is very useful for the all type of Liver - Spleen related disorders.
Key benefits
Stimulates the sluggish liver-spleen
Restores the normal hepatic functions
Protects the liver from the various infections
Improves appetite and digestion
Makes the defecation easy
Checks impaired function of liver
Promotes biliary flow
Indications
Jaundice
Hepatitis
Dyspepsia
Constipation
As a liver tonic
Alcoholic liver diseases
Dosage
Children : 5 to 10 ml. thrice a day with water
Adults : 10 to 15 ml. thrice a day with water or as directed by the physician.
Packing: 100, 200, 450 ml.
COMPOSITION:- Each 10 ml. contain Aqueous extract derived from:
| | | |
| --- | --- | --- |
| Ingredients | Botanical Name | Qty |
| Bhringraj | Eclipta alba | 120 mg. |
| Chitrak | Plumbago zeylanica | 120 mg. |
| Rohitak | Tecoma undulate | 120 mg. |
| Vavding | Embelia ribes | 120 mg. |
| Kasna beej | Cichorium intybus | 120 mg. |
| Punarnava | Boerhaavia diffusa | 120 mg. |
| Kalmegh | Andrographis paniculata | 120 mg. |
| Galo | Tinospora cordifolia | 120 mg. |
| Tulsi | Ocimum sanctum | 120 mg. |
| Bhuiamala | Phyllanthus niruri | 80 mg. |
| Kalipat | Cyclea peltata | 80 mg. |
| Kasundara beej | Cassi occidentalis | 80 mg. |
| Sarpankho | Tephrosia purpurea | 80 mg. |
| Nishoth | Operculina turpethum | 80 mg. |
| Kakmachi | Solanum nigrum | 80 mg. |
| Daruhaldar | Berberis aristata | 80 mg. |
| Pipli | Piper longum | 40 mg. |
| Kutki | Picrorhiza kurroa | 40 mg. |
| Sugar | Saccharum Officinarum | Q.S. |
| Carmoisine Colour | | Q.S. |
| Approved Flavour | | Q.S. |
| Excipients | | Q.S. |