Rheumaratna Gold (Gold Coated)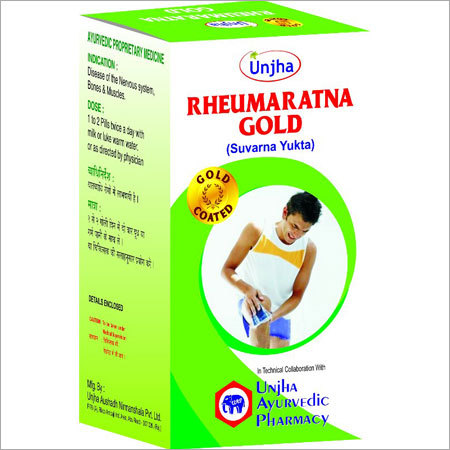 Rheumaratna Gold (Gold Coated)
Product Description
Rheumaratna Gold
Rheumaratna gold is the combination of Analgesic,Non-Steroidal,Anti-Inflammatory and Immuno-modulating drugs.Rheumaratna gold is very good for all type of the joint problems.
Key benefits

Well tolerated, do not causing gastric irritation
Effectively controls joint pain, swelling and stiffness
Improves joint movement and stability
Prevents and corrects the bony deformities
Assures outstanding safety on long term use
Indications
Rheumatoid arthritis
Osteoarthritis
Sciatica
Synovitis
Frozen shoulder
Ankylosing spondylitis
Neuropathies
Dosage
: 1 to 2 Pills twice a day with milk or luke warm water. or as directed by the physician.
Packing
: 15, 30, 125, 500 Pills
COMPOSITION: Each Gold Coated Pills Contains
| | | |
| --- | --- | --- |
| Ingredients | Botanical Name | Percentage (%) |
| Maharasnadi Quath Ext. | | 55 % |
| Maha Yograj Guggulu | | 25 % |
| Suddha Zerkochala | Strychnos nux-vomica | 5 % |
| Shallaki | Boswellia Serrata) | 5 % |
| Nirgundi | Vitex Negundo | 5 % |
| Malla Sindur | | 4.95 % |
| Suvarna Bhasma | | 0.05 % |
| Excipients | | Q.S. |