Rheumaratna Oil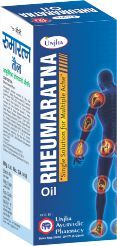 Rheumaratna Oil
Product Description
Rheumaratna Oil

Rheumaratna Oil is an exceptional and unique medicated oil for various pain related problems. It is invented to treat pain instantly in the joints due to vitiated vata. Rheumaratna Oil has rejuvenating and analgesic qualities.
Key Benefits:
Anti-rheumatic.
Excellent pain reliever.
Soothes sore muscles and tendons.
Improves blood circulation.
Nourishes the tissues, muscles and bones.
Cures stiffness and relieve inflammation.
Indication:
Joints Pain
Muscular Sprain
Arthritis
Backache
Sciatica
Dosage: 3 to 5 drops on affected area and massage gently for few minutes, followed by hot fomentation .Use regularly till symptoms subside.
Packing: 50 ml.
COMPOSITION: Extract derived from
Ingredients

Botanical Name

Percentage (%)

Ashwagandha

Withania somnifera

4.250 %

Bala

Sida cordifolia

4.250 %

Masha

Phaseolus radiata

4.250 %

Dashmool quath powder

4.250 %

Rasna

Vanda roxburghii

4.250 %

Nirgundi

Vitex negundo

4.250 %

Erand

Ricinus communis

4.250 %

Arka

Calotropis procera

4.250 %

Dhatur

Datura metel

4.250 %

Sarsav

Brassica campestris

4.250 %

Gandh Prasarini

Paederia foetida

4.250 %

Ghodavaj

Acorus calamus

0.800 %

Sunth

Zingiber officinale

0.800 %

Shuddha zerkochala

Strychnos nux-vomica

0.800 %

Sindhav

Sodii cloradum

0.800 %

Shuddha bhilama

Semicarpus anacardium

0.150 %

Kapoor

Cinnamomum camphora

4.200 %

Piper mint phool

Mentha piperata

4.200 %

Satva ajwayan

Trachyspermum ammi

1.500 %

Processed In

Tal Tail

Nilgiri Tail

Gandhpura Tail

Sesamum indicum

Eucalyptus globulus

Gaultheria fragrantissima

95.000 %

2.500 %

2.500 %
Trade Information
Yes

Within a certain price range free samples are available
50ml=88/- & 500ml=740/-

All India