SARPALIN TABLET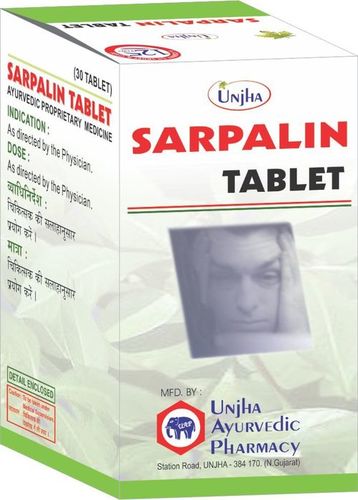 SARPALIN TABLET
Product Description
Sarpalin Tablet
Sarpalin Tablet is combination of the herbal anti hypertensive and anxiolytic herbs. Sarpalin Tablet is very effective to control the elevated blood pressure.
Key benefits
It reduces blood pressure by relaxing
Clams nervous system to remove stress
Effectively controls the blood pressure
Cool & calms the mind
Reduces the stress and normalize the mood
Very safe and effective for long term use
it is Safe and can be added with modern Anti hypertensive therapy
Indications
Hypertension
Disturbed sleep
Anxiety
Psychosis
Dosage:
1 to 2 tablets twice a day with water or milk or as directed by the physician.
Packing: 30, 100, 500 Tabs.
COMPOSITION: Each Uncoated Tablet Contains :
| | | |
| --- | --- | --- |
| Ingredients | Botanical Name | Qty |
| Sarpa gandha | Rauwolfia serpentina | 250 mg. |
| Shankhavali | Convolvulus pluricaulis | 50 mg. |
| Brahmi | Bacopa monnieri | 50 mg. |
| Vaj | Acorus calamus | 25 mg. |
| Tagar | Valeriana wallichii | 25 mg. |
| Jatamansi | Nardostachys jatamansi | 25 mg. |
| Bhringraj | Eclipta alba | 25 mg. |
| Ashwagandh | Withania somnifera | 25 mg. |
| Jivanti | Leptadenia reticulata | 25 mg. |
| Excipients | | Q.S. |