Shankhpushpi Syrup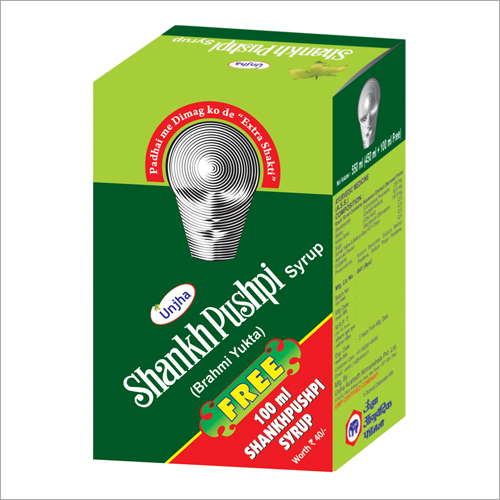 Shankhpushpi Syrup
Product Description
Shankhpushpi Syrup
Shankhpushpi syrup is the excellent combination of the Ayurvedic memory enhancer,anxiolytic and brain tonic herbs. Shankhpushpi syrup is very useful for all type of stress and memory related problems.
Key benefits
Very powerful stress reliever,mood stabilizer and memory enhancer
Improves higher mental functions, mental quotient, concentration and learning ability
Relieves mental and physical fatigue
Controls the hyper excitability of the nerves
A valuable adjuvant to anticonvulsive therapy
Indications
Stress, Anxiety , Depression ,Insomnia
Concentration and learning problem
As a adjuvant in epilepsy
Mental retardation
Mild Hypertension
As a memory booster brain tonic
Dosage
Children : 5 to 10 ml. Twice a day with water or milk.
Adults : 10 to 15 ml. Twice a day with water or milk. or as directed by the physician.
COMPOSITION: Each 10ml contains Aqueous Extract Derived From
| | | |
| --- | --- | --- |
| Ingredients | Botanical Name | Qty |
| Shankhpushpi | Convolvalus pluricaulis | 250 mg. |
| Brahmi | Bacopa monnieri | 62.5 mg. |
| Nimbu Satva | Citric acid | 7.813 mg. |
| Sugar | Saccharum officinarum | Q.S. |
| Sunset Yellow & Brilliant Blue FCF Colour | | Q.S. |
| Approved Flavour | | Q.S. |
| Excipients | | Q.S. |