Chandanvita Tonic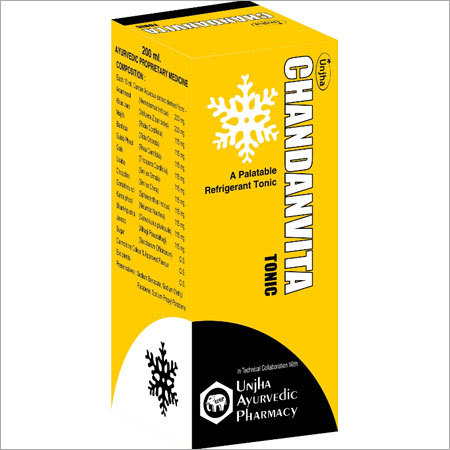 Chandanvita Tonic
Product Description
Chandanvita tonic
Chandanvita tonic is cooling refreshing and energetic Ayurvedic compound. Chandanvita tonic is very delicious in taste and very cool in effect .
Key benefits
Reduces the extra body heat and the chance of sun stroke
Convert the burning sensation into the cool feeling
Very good diuretic,renderings the urine alkaline
Controls the excessive sweating from palms & soles
Checks the giddiness & headache caused by excess pitta
keeps you hydrated
Cools you physical as well as mentally
Indications
Sunstroke
Prickly heat
Burning Sensation
Vertigo
Dosage
Children: 5 to 10 ml. thrice a day
Adults: 10 to 15 ml. thrice a day with water or milk or as directed by the physician.
Packing: 200, 450 ml.
COMPOSITION:Each 10ml contain Aqueous extract derived from
| | | |
| --- | --- | --- |
| Ingredients | Botanical Name | Qty |
| Anantmool | Hermidesmus indicus | 230 mg. |
| Khus varo | Vetiveria zizanioides | 230 mg. |
| Majith | Rubia cordifolia | 115 mg. |
| Banfasa | Viola odorata | 115 mg. |
| Gulab Phool | Rosa centifolia | 115 mg. |
| Galo | Tinospora cordifolia | 115 mg. |
| Usabo | Smilex ornate | 115 mg. |
| Chopchini | Smilex china | 115 mg. |
| Gorakhmundi | Sphaeranthus indicus | 115 mg. |
| Kamalphool | Nelumbo nucifera | 115 mg. |
| Shankhpushpi | Convolvulus pluricaulis | 115 mg. |
| Javaso | Alhagi camelorum | 115 mg. |
| Sugar | Saccharum officinarum | Q.S. |
| Carmoisine colour & Approved Flavour | | Q.S. |
| Excipients | | Q.S. |