Giloy Ghanvati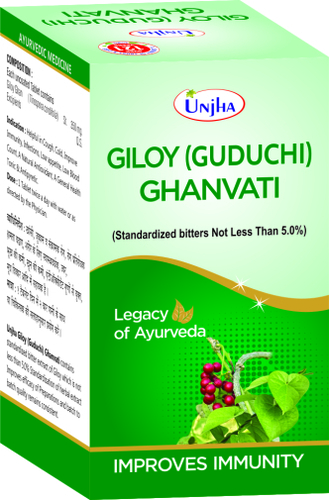 Giloy Ghanvati
Product Description
Giloy is one of the most popular herbs used in India for its medicinal value. Unjha Ayurvedic Pharmacy started manufacturing Giloy (Guduchi) Ghan Vati which is prepared from the extract of Giloy that is standardized by bitters not less than 5% Standardization ads more value to this preparation that improve the therapeutic effect of this medicine and also batch to batch quality remain consistent.

Key Benefits:

The Giloy enhances body's immune system.
Giloy helps to remove toxins from the body.
Indications:
Improve Immunity
Cough & Cold
A natural Antioxidant
Dosage: 1 Tablet twice a day with water or as directed by the physician.
Giloy is not only a medicine meant for disease treatment but also a preventive medicine.

Packing: 60, 200, 1000 Tabs.

COMPOSITION:- Each Uncoated Tablet Contains:

| | | |
| --- | --- | --- |
| INGREDIENTS | Botanical Name | Wt.(mg.) |
| GILOY GHAN | Tinospora cordifolia | 350 |