Kanth Sudharak Vati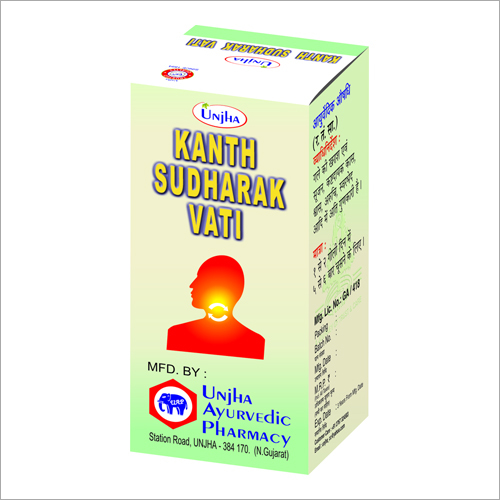 Kanth Sudharak Vati
Product Description
KANTH SUDHARAK VATI
Kanth Sudharak Vati is prepared from soothing and expectorant herbs which give relief in throat problems. It reduces the stickiness and kapha in the oral cavity and provides fresh breath.
Key Benefits
Improves the quality of voice and capacity of the vocal card of the singers
Pulls out the sputum from Respiratory tract
Cures the Cough
Soothes the throat
Indication
Sore throat
Hoarseness
Cough
Bad breath
Dosage
: 1 to 2 pills to be sucked 5 to 6 times a day
Packing
: 5 g.,10 g., 50 g. & 500 g.
COMPOSITION: Each Pills Contains:
| | | |
| --- | --- | --- |
| Ingredients | Botanical Name | Percentage (%) |
| Jethimadh ghan | Glycyrrhiza glabra | 57.046 |
| Pipermint phool | Menth piperata | 2.037 |
| Kapoor | Cinnamomum camphora | 8.149 |
| Elaychi | Elettaria cardamomum | 8.149 |
| Lavanga | Syzygium aromaticum | 8.149 |
| Javantri | Myristica fragrans | 16.300 |
| Saccharin | | 0.170 |
| Excipients | | Q.S. |