Livbond Syrup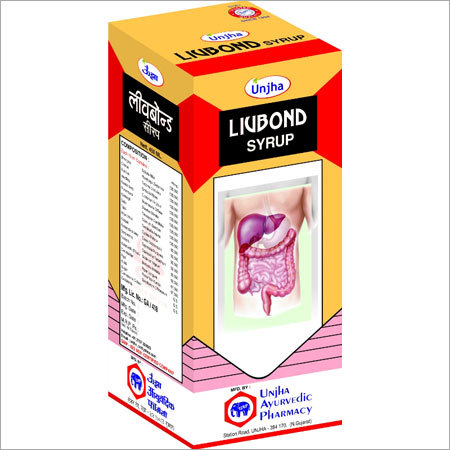 Livbond Syrup
Product Description
Livbond Syrup provided by our company, is a type of ayurvedic medicine which is produced by using multiple of herbs. This syrup is free from any added chemicals and preservatives. Livbond Syrup is very cost effective and can be easily purchased at cheaper prices too. This syrup is safe to consume.
Key benefits
Improves appetite and digestion
Makes the defecation easy
Indications
Dosage
Children : 5 to 10 ml. thrice a day with water
Adults : 10 to 15 ml. thrice a day with water or as directed by the physician.
Packing: 100, 200, 450 ml.
COMPOSITION:- Each 10 ml. contain Aqueous extract derived from:
| | | |
| --- | --- | --- |
| Ingredients | Botanical Name | Qty |
| Bhringraj | Eclipta alba | 120 mg. |
| Chitrak | Plumbago zeylanica | 120 mg. |
| Rohitak | Tecoma undulate | 120 mg. |
| Vavding | Embelia ribes | 120 mg. |
| Kasna beej | Cichorium intybus | 120 mg. |
| Punarnava | Boerhaavia diffusa | 120 mg. |
| Kalmegh | Andrographis paniculata | 120 mg. |
| Galo | Tinospora cordifolia | 120 mg. |
| Tulsi | Ocimum sanctum | 120 mg. |
| Bhuiamala | Phyllanthus niruri | 80 mg. |
| Kalipat | Cyclea peltata | 80 mg. |
| Kasundara beej | Cassi occidentalis | 80 mg. |
| Sarpankho | Tephrosia purpurea | 80 mg. |
| Nishoth | Operculina turpethum | 80 mg. |
| Kakmachi | Solanum nigrum | 80 mg. |
| Daruhaldar | Berberis aristata | 80 mg. |
| Pipli | Piper longum | 40 mg. |
| Kutki | Picrorhiza kurroa | 40 mg. |
| Sugar | Saccharum Officinarum | Q.S. |
| Carmoisine Colour | | Q.S. |
| Approved Flavour | | Q.S. |
| Excipients | | Q.S. |