Neem Giloy Juice With Tulsi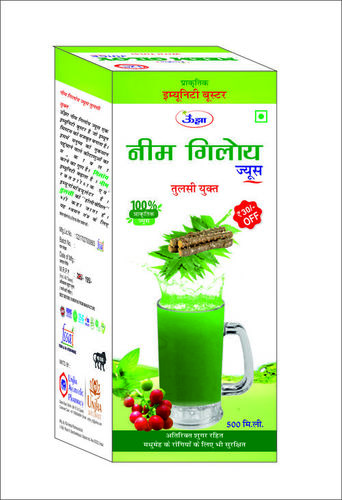 Neem Giloy Juice With Tulsi
Product Description
NEEM GILOY JUICE
WITH TULSI
(NATURAL IMMUNITY BOOSTER)
Unjha Neem Giloy Juice is a natural immunity booster which builds a strong immune system It has the potential to combat almost all type of germs harmful to human beings. Giloy is a natural immunity enhancer; It helps to strengthen and boosts immunity. Neem has anti-parasitic properties and immunomodulatory action .Tulsi is also called "Holy basil". It is relief from cough and cold .It is good for respiratory health.
COMPOSITION:
INGREDIENTS

BOTANICAL NAME

QTY

Giloy

Tinospora cordifolia

49 %

Neem

Azadirachta indica

25 %.

Tulsi

Ocimum sanctum

25 %

Other ingredients :

Class II preservatives (E211, E 202) Acidity regulator (E330).

Q.S.
BENEFITS:
Improves immunity
Antioxidant
Anti-allergic
A natural blood purifier and help for skin problems
DIRECTION FOR USE:
15 to 20 ml.Unjha Neem Giloy juice twice a day mixed with water after meals or as directed by your Healthcare professional .
PACKING: 500 ml.
Nutritional Value per 100 ml of Unjha Neem Giloy Juice*
Energy

7.47 Kcal

carbohydrates

1.82 g

Total Fat

0.0 g

Fiber

1.20 g

Vitamin C

0.0 mg

Sodium

21.59 mg

Calcium

0.0 mg

Iron

0.48 mg

Protein

0.0 g

*approximate value, this product being natural, nutritional value may vary.