Niyam Churna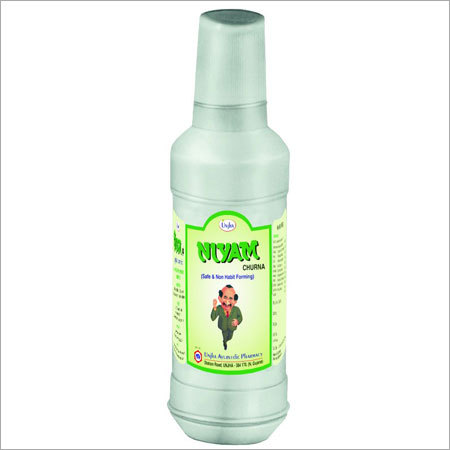 Niyam Churna
Product Description
Niyam Churna
Niyam Churna is an Excellent combination of Non habit-forming carminative ,Digestive and laxative herbs. Niyam Churna is very useful and reliable laxative to relieve constipation caused by any etiology.
Key benefits
Increases peristalsis and decreases segmentation
Maintains fluid, electrolysis balance and assures smooth evacuation
Prepares and cleans intestine for the interventions
Improves the digestion and reduces gas problem
It does not cause gastric irritation and pain
Safe for long term use
Indications
Dosage
: 2 to 5 g. at bedtime or early morning or as directed by the physician.
Vehicle
:Luke warm Water.
Caution
: During pregnancy under strict supervision of Physician.
COMPOSITION
| | | |
| --- | --- | --- |
| Ingredients | Botanical Name | Percentage (%) |
| Senna leaves | Cassia angustifolia | 50% |
| Sanchar | Unakya Sodii cloradum | 13% |
| Himaj | Terminalia chebula | 4 % |
| Souff | Foeniculum vulgare | 4 % |
| Sindhav | Sodii cloradum | 5 % |
| Jethimadh | Glycyrrhiza glabra | 3 % |
| Ajawayan | Trachyspermum ammi | 4 % |
| Nishoth | Operculina turpethum | 8 % |
| Saji Phool | Astoneman indicum | 5 % |
| Gulab Phool | Rosa centifolia | 4 % |
| Excipients | | Q.S. |