Raktashodhak Tonic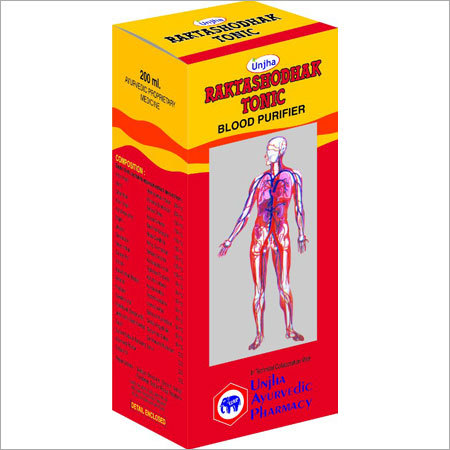 Raktashodhak Tonic
Product Description
Raktashodhak Tonic

Raktashodhak Tonic is the combination of blood purifiers,hematinic and cooling herbs. Raktashodhak Tonic is very effective in all type minor dermatological conditions caused by impurity of the blood.
Key benefits
Very good blood purifier and protector of the skin
Controls the itching of any etiology
Clears the impurities of the blood
Rejuvenates the skin
Indications
Pruritus
Urticaria
Acne vulgaris
Scabies
DosageChildren
: 5 to 10 ml. twice a day with water.
Adults
: 10 to 15 ml. twice a day with water. or as directed by the physician.
Packing
: 200, 450 ml.
COMPOSITION:Each 10 ml. contains Aqueous extract derived from
| | | |
| --- | --- | --- |
| Ingredients | Botanical Name | Qty |
| Anantmool | Hemidesmus indicus | 300 mg. |
| Ushir | Vetiveria zizanioides | 200 mg. |
| Chopchini | Smilex china | 150 mg. |
| Kher chhal | Acacia catechu | 150 mg. |
| Kanchnar chhal | Bauhinia variegata | 150 mg. |
| Majith | Rubia cordifolia | 150 mg. |
| Javaso | Alhagi camelorum | 100 mg. |
| Daruhaldar | Berberis aristata | 100 mg. |
| Neem chhal | Azadirachta indica | 100 mg. |
| Sarpankho | Tephrosia purpurea | 50 mg. |
| Shirish | Albizzia lebbeck | 50 mg. |
| Bawal chhal | Acacia arabica | 50 mg. |
| Rohitak | Tecoma undulata | 50 mg. |
| Medipan | Lawsonia alba | 50 mg. |
| Gorakhmundi | Sphaeranthus indicus | 50 mg. |
| Mindhiaval | Cassia angustifolia | 50 mg. |
| Jethimadh | Glycyrrhiza glabra | 50 mg. |
| Sugar | Saccharum officinarum | Q.S. |
| Sunset Yellow & Tartrazine colour | | Q.S. |
| Approved Flavour | | Q.S. |
| Excipients | | Q.S. |