Rhemaratna Gold Capsule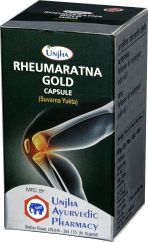 Rhemaratna Gold Capsule
Product Description
Rheumaratna Gold Capsule
It is herbo-mineral combination of analgesic, anti-inflammatory and immunomodulating drugs. Useful in pacification of Vata, Eliminates Aam and prevents its recurrence. It designed to not only relieve the pain but also to strengthen the body and nourishes it too.
Key Benefits:
Reduces pain and stiffness.
Reduces inflammation and improves joint movement.
Decrease elevated level of uric acid.
Provides better nutrition to tissues, strengthens muscle and joints of the body.
Excellent natural calcium supplements and prevents joint degradation.
Increases Immunity of Patient.
Improves digestion.
Indications:
Rheumatoid Arthritis
Osteoarthritis
Gout
Sciatica
Ankylosing Spondylitis
Muscular and Joint pain.
Dosage: 1 capsule twice a day with water or as directed by the physician.
Packing : 30,100,500 Caps.
COMPOSITION: Each Hard Gelatin Capsule Contains:-
Ingredients

Botanical Name

Qty

Ashwagandha Ext.

Withania somnifera

50 mg.

Surinjan Kadwi

Colchicum luteum

50 mg.

Dashmool Quath Ext.

40 mg.

Maharasnadi Quath Ext.

40 mg.

Shuddha Zerkochala

Strychnos nux-vomica

30 mg.

Yograj Guggulu

20 mg.

Sunth

Zingiber officinale

15 mg.

Kapardi Bhasma

15 mg.

Shuddha Shilajit

Asphaltum punjabianum

15 mg.

Shuddha Hing

Ferula foetida

5 mg.

Loh Bhasma

5 mg.

Abhrak Bhasma

5 mg.

Shuddha Guggulu

Commiphora mukul

210 mg.

Suvarna Bhasma

0.300 mg.

Excipients

Q.S.

Bhavna

Nagod

Rasna

Vitex negundo

Vanda roxburghii

Q.S.

Q.S.