Sudhasaptak Tablet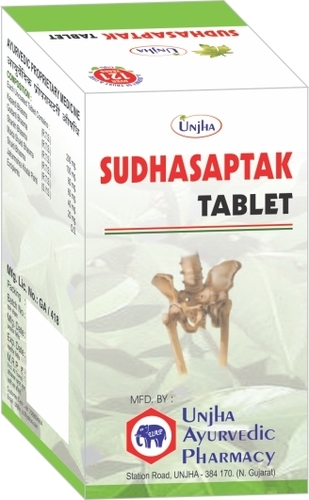 Sudhasaptak Tablet
Product Description
Sudhasaptak Tablet
Sudhasaptak tablet is the excellent combination of the natural calcium rich minerals. Sudhasaptak tablet is very effective for calcium deficiency.

Key benefits

Very fast action and easy assimilation
Very useful and safe in the pregnancy
Effectively improve the calcium level
Maximizes utilization of the calcium by the system
Increases the bone density and strengthens the bones
Indications
Osteoporosis
Osteo-malacia
Calcium deficiency conditions
As a natural calcium supplement
Dosage

1 to 2 tablets twice a day with water or milk. or as directed by the physician.
Packing : 30,100,500 Tabs.

COMPOSITION:Each Uncoated Tablet Contains
| | |
| --- | --- |
| Ingredients | Qty |
| Kapardi Bhasma | 200 mg. |
| Godanti Bhasma | 100 mg. |
| Shankh Bhasma | 80 mg. |
| Mukta Shukti Bhasma | 60 mg. |
| Shukti Bhasma | 40 mg. |
| Jaharmohrakhatai Pishti | 20 mg. |
| Excipients | Q.S. |