Unzyme Syrup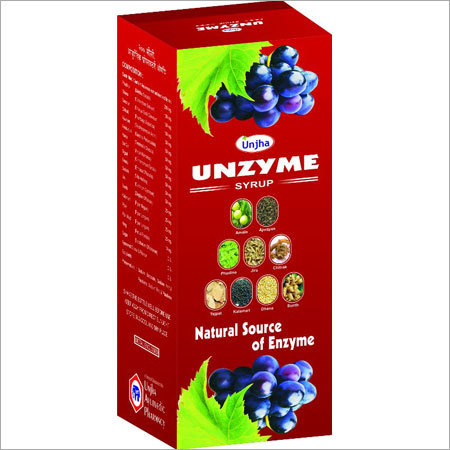 Unzyme Syrup
Product Description
Unzyme Syrup
Unzyme syrup is the combination of appetiser, digestive and carminative herbs. Unzyme syrup is very useful for all type of abdominal disturbances caused by the Indigestion and flatulence.
Key benefits :
Overcome indigestion
Increases the desire on food,improves appetite and helps digestion
Releases trapped gas and reduce gas formation
Keeps the abdomen light and comfort
Non sedative and Non addictive
Indications:
Loss of appetite
Indigestion
Flatulence
Colic pain
Dosages
Children : 5 to 10 ml. twice a day before meal with water
Adults : 10 to 15 ml. twice a day before meal with water or as directed by the physician.
Packing: 200 ml.
Caution : Please do not use during the pregnancy or use under medical supervision with caution.

COMPOSITION: Each 10 ml. contain Aqueous extract derived from
| | | |
| --- | --- | --- |
| Ingredients | Botanical Name | Qty |
| Phudino | Mehtha spicata | 200 mg. |
| Dhana | Coriandrum sativum | 100 mg. |
| Sanchar | Unakya Sodii cloradum | 100 mg. |
| Chitrak | Plumbago zeylanica | 100 mg. |
| Ajwayan | Trachyspermum ammi | 50 mg. |
| Amalvetas | Garcinia pedunculata | 50 mg. |
| Harde | Terminalia chebula | 50 mg. |
| Bel Giri | Aegle marmelos | 50 mg. |
| Tejpat | Cinnamomum tamala | 50 mg. |
| Amala | Emblica officinalis | 50 mg. |
| Draksh | Vitis vinifera | 50 mg. |
| Jiru | Cuminum cyminum | 50 mg. |
| Sunth | Zingiber officinale | 25 mg. |
| Kalamari | Piper nirgum | 25 mg. |
| Piper | Piper longum | 25 mg. |
| Pipli Mool | Piper longum | 25 mg. |
| Hing | Ferula foetida | 10 mg. |
| Sugar | Saccharum officinarum | Q.S. |
| Approved Flavour | | Q.S. |
| Sunset Yellow Colour | | Q.S. |
| Excipients | | |